A Time for You Domestic Cleaning franchise isn't your run of the mill cleaning franchise, it's a booking management agency that sources the cleaners to its clients. This is a unique opportunity to build an ideal stress-free, home-based business that gives you the ability to generate residual income. Time for You Domestic Cleaning provides you with total freedom and is not only ideal for the entrepreneurial minded but at the same time an exceptional part-time business.
OUR SERVICE
Time For You provides properly screened and vetted self-employed, part-time casual domestic cleaners to private households. The tasks performed would typically include normal household cleaning duties such as vacuuming, dusting, washing down paintwork, cleaning toilets and bathrooms (and depending on franchise areas) ironing.
However it is you the client who gets to determine the tasks performed each week enabling you to get the cleaning that gives you TIME FOR YOU!
We clean your home so you don't have to! We know the value of free time. You deserve to spend quality time, whether it be golfing, shopping, reading a book or simply spending more time with your family. After all, time is finite! Life is too short to spend your free time cleaning!
YOUR OPPORTUNITY
The Time for You franchise system is the perfect opportunity for those who are able to manage sales, clients or bookings. It gives you the freedom to run your own business in your very own exclusive area, while following the methods and systems of an already proven domestic cleaning business. With the demand for their services increasing there is the potential to generate a substantial client list by following the Time for You results-driven marketing methods and giving yourself full control of your future income.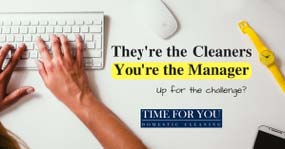 OUR TRAINING
Time for You offer an experienced and thorough training program designed to help you earn while you learn. The training program and operation's manual covers the following;
How to find regular clients easily.
How to find reliable and motivated cleaners.
Being in business for yourself.
Working from home efficiently.
Two-day residential training course.
On-going support and mentoring.
How to grow your business.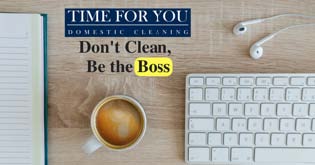 If you want to manage your own future with a business that has potential for regular and consistent profits, then look no further than Time for You Domestic Cleaning with a proven success rate overseas in the UK, Norway and Ireland!