Congratulations to new franchisee Dieter Kirsch for the successful granting of his franchise in Boronia, Melbourne.
Who's # 1……for Thyme after Thyme Garden Services?
Thyme After Thyme Garden Services Successfully Grants its First Franchise in January 2020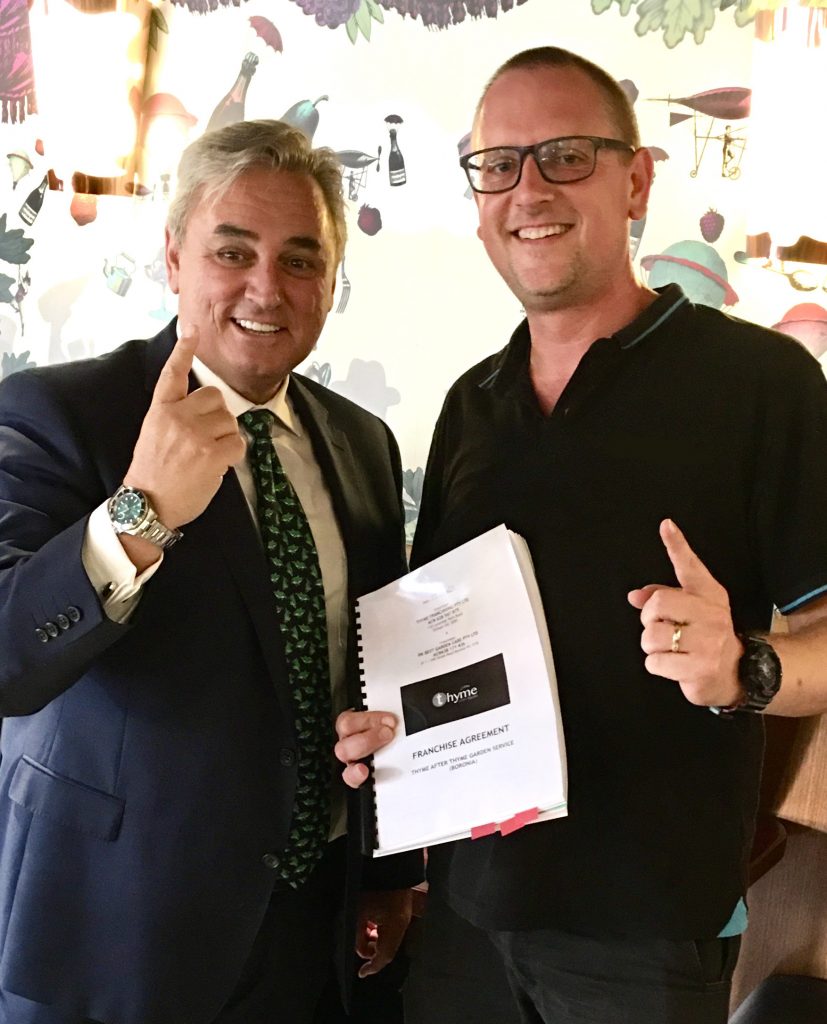 When asked by Nick James, Managing Director of Franchise Central, what it took to take the plunge and be the first franchisee for Thyme After Thyme Garden Services, Dieter responded,
"what stood out for me was the comfortable feeling I had from the very initial contact to discuss the franchise with Nick James. I had contacted numerous franchises over the past year that were in the gardening and landscaping sector and was left disappointed by their shortness and lack of interest in answering my questions. Some of these were the usual well-known suspect brands and I didn't like how they dealt with myself.
All my dealings with the Thyme After Thyme franchisor Grant Aggett and Franchise Central's Nick James was informative and an open book, it was genuine and honest discussions, all my questions were answered to my complete satisfaction.
I was guided through the Franchisee Recruitment process of discussions, given ample time to seek other advice and to conduct my own research to my satisfaction overall our dealings were straight forward".
Dieter continued, "I honestly wanted and was seeking to join a franchise group that had been more established with some franchisees that I could meet and speak to. Initially, I was hesitant considering being the 1st franchisee for Thyme After Thyme Garden Services, but with all my bunch of Questions and concerns were fully answered took that initial hesitation away.
My judgement of Grant was that he was an open, sincere businessman with a vision to surround himself with similar minded people to grow the Thyme brand so all could succeed.
In the end, I knew I could back myself with confidence to make this franchise work".
The Thyme After Thyme Garden Services Franchise system/model made sense to me, there were no unknown factors as the fixed fee structure made it easy for me to budget and see how I would benefit from joining this franchise business.
In the end, the whole thing felt right from start to finish" said Dieter.
"Dieters background lends itself to the Thyme After Thyme Garden Services franchise/business model as having a keen interest in gardening and the outdoors, having been a team manager in another business also lends itself for an easier transition in him backing himself to managing a number of his own gardening crews in the future as he builds his franchise business", says Nick James.
Thyme after Thyme Garden Services comprises a successful team of individuals eager to pave out a successful career path in their own business.
With a fresh outlook on what is already a saturated market. Franchise Central's Managing Director, Nick James has said: "The trend nowadays is to have manicured and cleaned gardens, this creates a higher demand for quality/professional gardening services, meaning more work for potential franchisees eager and systemised enough to carve out their own profitable patch of Paradise."
"The Franchise Business System sets up Franchisees with a complete comprehensive model from the onset that will be required to succeed both in building many customers professionally and efficiently. Thyme After Thyme Garden Service is Not a backyard ad-hoc business, they pride themselves in doing it right the first time", says Nick James from Franchise Central.
The franchisor will assist with building a regular round for the franchisee and also introduce potential clients which the franchisee will be able to channel work through.
"Thyme After Thyme Garden Service is offering each franchisee an exclusive area with a minimum of 15,000 domestic residents, which makes it possible for a franchisee to get off the tools and manage a number of their own teams/crews in their massive area. Thyme After Thyme Garden Service is positioned to bring to the market and challenge the others in the gardening and landscaping sector with the success of its winning team to be the front runners in the gardening and landscaping sector," says Nick James.
Franchise Central's, Nick James says "Dieter will be a great fit to complement the continued growth of the Thyme After Thyme Garden Services franchise in the Boronia area of Melbourne".
Franchise Central is Australia's most successful Franchise Development Consultants and Franchisee Recruiters with a proven track record that now spans over 30 years in Australia and Overseas.
Nick James says, "we have been at the forefront of the Franchising Sector setting the benchmark high to ensure we exceed our Franchisor Clients expectations in guiding them to develop and expand their franchise systems/ brands. Our systematic approach to recruiting quality franchisees has always been paramount, I am confident that all our clients over the years have been impressed in the calibre of potential franchisees we have put up for their selection. The results speak for themselves why we are still around and producing great things when so many others have perished over the years.
As Franchise Consultants we have both a financial and moral obligation to do the right thing for our franchisor and franchisee clients so all parties achieve a win-win result, whether thinking of Franchising your Business, seeking Franchisee Recruitment and or looking for the best Franchise Business Opportunities, Franchise Central is there to assist you."