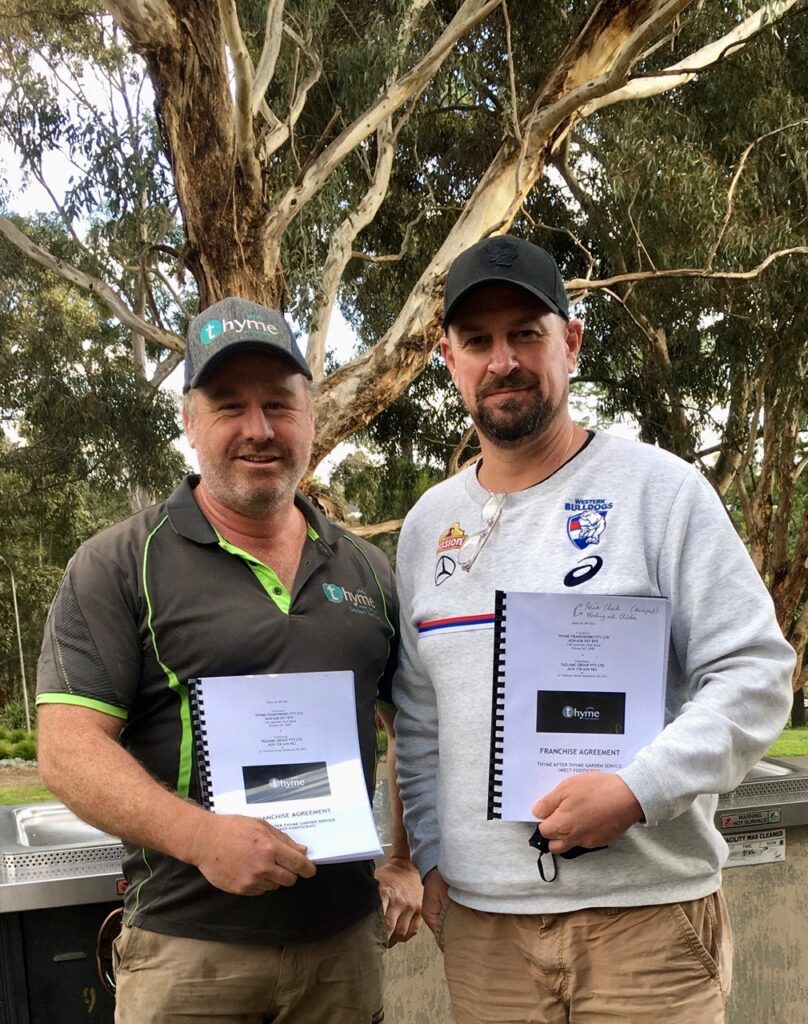 Grant Agget- Franchisor in (Green) on left and Tarin McManus on right
Congratulations to new Thyme Gardening Services franchisee Tarin McManus for the successful granting of his franchise in West Footscray (and surrounding suburbs) of Melbourne.
Successfully recruited by Franchise Central's Managing Director Nick James remotely due to Covid restrictions, has already hit the ground running in his first week of training.
Tarin, is looking forward to being the first of more franchisees for the western suburbs of Melbourne and has a passion for gardening services and healthy outdoor activities with a strong belief in the franchise system of Thyme gardening Services.
Tarin says, "I'm looking forward to providing the Thyme Gardening Services in my area and being assisted in building my customer base with the experienced Thyme franchisor Grant Aggett and his crew. I believe this new journey i have embarked on with Thyme will see me growing as my own boss and building my own crew of gardeners to service my customers gardening requirements.
In particular the first few days have been physically exhilarating to say the least, I'm feeling stronger and look forward to this new chapter in my life being a healthier and rewarding one for myself and my family".
"It is refreshing to see how franchisees are able to deal directly with Grant Aggett, the franchisor of Thyme Gardening Services in their training, setup and development of their franchise business, Grant comes across as a very experienced business owner and down to earth, always with a smile and a great sense of humour always re-assuring people that deal with him", says Nick James.
Franchise Central's Nick James says, "Tarin's a great fit for the franchise and growth of the Thyme Gardening Services brand.
With over 20 years successful gardening and landscaping by the Thyme business in Melbourne and Tarin's passion, experience, infectious commitment to follow the system and drive to build a successful business, we wish them both all the success.
If you also have a keen interest in the mobility and flexibility of a business that offers you the outdoors, dealing with both domestic and commercial customers, gardening, being you're own boss and maybe building your own crew to manage, then ask Nick James from Franchise Central for a detailed information pack and options that maybe available for you.
Contact Us through the website or Call us directly at 1300 558 278